Our university is spending $17 million on new student dormitories that students will move into next month. We reported briefly on the dorms back at Christmas-time. I've spent some part of my summer learning about LEED building, the claims made by green building advocates and whether or not those claims ever materialize and in a cost-effective manner. We'll report on those periodically as we continue to study the progress of our very own LEED building on campus.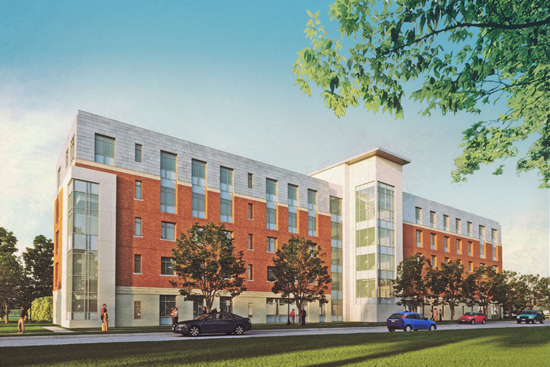 But here is today's simple question. I am sure it has no answer. Well, I know the answer I'll get, but that is not exactly an answer. Here goes. The building is certified by the private organization known as the US Green Building Council. The certification comes on the basis of a variety of factors, including where the building materials are sources, how much light gets into the building, how much fresh air gets into the building and more. But here is what used to puzzle me back when I thought we were all doing science: why is the building certification given before a single drop of cement is poured?
Seriously. The LEED Gold certification is granted before the building is completed and in operation. The awards are given with an eye toward whether the materials sourcing and building design are intended to improve outcomes – which does not exactly mean the same thing as actually getting them. Heck, the more I think about it, that certification shouldn't be given until after several years of operation. Why? If the building is being built to improve health outcomes and environmental outcomes then wouldn't it make sense to measure those things as a result of the building itself, and then based on whether those outcomes materialize make the awards to the building?
Now of course it is no surprise that this is not done. I wonder if we have any plans to measure these things so we can at least do our own internal evaluation? And of course I wonder if we have an adequate control building so we can do an apples-to-apples comparison on benefits and costs. Finally, there seems to be a market opportunity for a certification firm to step in and do the analysis like this for folks. In fact, there seems to be an opportunity to do this across a wide swath of environmental and health projects, I wonder why no one has stepped up to fill in the gap.
Anyone want to get in business with me? I am sure we'll make a killing. Sure of it. It would be nice to be evaluated in all of our jobs this way. Imagine going to your vet, "well Mr. Wintercow, I intended only to give your dog a vaccination, sorry I cut her leg off …!" No worries doc, no worries.