I spend a decent amount of time reading Ezra Klein's site, and I recommend it to all of you. But I'd be pleased if we were all just a little bit more honest about what we are doing here. Here is today's post by their Environmental writer about Colony Collapse Disorder:
It's an interesting study in contrasts. The link between pesticides and bee die-offs is still subject to some dispute. So, in the face of uncertainty, the European Commission is erring on the side of the environment — voting to ban neonicotinoids for two years just in case they really are to blame for the bee collapse.

The United States, meanwhile, is erring on the side of certain economic interests — it's still not clear that neonicotinoids are to blame, and pesticides are a billion-dollar industry, so regulators are moving slowly in setting restrictions.
So, banning a particular pesticide MUST be "on the side of the environment?" Really? What will bee keepers and orchard keepers turn to absent that? Will yields fall and land use increase, leading to more erosion and loss of habitat? That surely wouldn't be on the side of the environment. So now writers for the WaPo just get to make stuff up too? You wonder where they learn such things? It's all harmless opinion, right? And the next sentence is even better. The narrative HAS to be that the US market is some maniacal free-market place and subject to total lack of regulation. So by not banning a pesticide that it's not clear produces damages, we are "siding" with a particular industry. Did it ever occur to the write that the Pecan farmers, fruit growers and other folks that depend on bees are also a multi-billion dollar business (it's probably not as large as we all think however)?I wonder why we have this Dr. Evil-like snarl when we mention "certain economic interests" as if the interests of the pesticide folks and fruit folks and bee folks are all misaligned. And what if they banned the pesticide, wouldn't this be "siding with certain economic interests" too? On what alternative planet are we living? 
And do you think in a post about, "hey the bees are dying," a writer would bother to ask what people are doing in response to it? Almost immediately after I clicked on that WaPo piece, I ran into my reading material from PERC. And what do you know, they are featuring a piece today on just what has happened to beekeeping and farming/orchards as the bee populations have suffered. You'd think our author would bother to ask, "just what has happened to the price of pollination services" since the collapse began? And maybe he would ask, "I wonder why pecan prices haven't quadrupled in the previous 10 years?" No such questions are asked. Here is what the PERC folks have to say about it, which surprised even me. 
By the way, the book Fruitless Fall, by Rowan Jacobsen was well written and thoughtfully presented. It was published in Fall 2008. I strongly recommend it. He has a final chapter talking about how both bee-keepers and orchard keepers are adapting. And I am sure Rowan would describe himself as a very concerned environmentalist, and I applaud his work, especially because he doesn't just make sh*t up.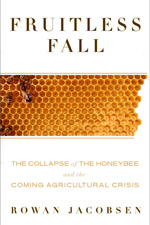 And I think the final doozy is this one. Take a look at the writing of "E"nvironmentalist writers over time, especially when it comes time to discuss fracking regulations or the development of renewables. Despite the safety record of fracking and its record of producing cleaner burning and more carbon free fuel than coal, "more research is needed." And the "precaution" there is to wait until we know for sure about the science before allowing it to go forward. But when we say "more research is needed" before it makes sense to ban a chemical, we are somehow doing something underhanded here? 
I just don't get it. And the next time I see the word "non-partisan" I think I am going to vomit. Everyone is partisan, if they don't tell you so, they are just making sh*t up. I at least tell you where my biases are, and I hope I am mature enough to drop them if someone bothered to show me evidence.